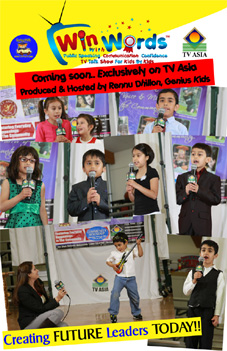 Mission Statement:
The first Kids TV Talk Show to promote the importance of public speaking, communication & confidence development . The show will feature kids ages 4-15 interacting with Ms Rennu, other hosts and also host various segments to include Health, Bollywood News, Current Events etc.
Format:
A Talk Show featuring 5-8 children weekly hosting various segments in the show. Some children will be selected as regular hosts for their segments. No parent participation.

Number of Shows:
8 filmed in the first season. 4 shows recorded in August (over a weekend) and 4 shows in September 2013. Candidates must be available for:
Tentative dates August 10 & 11, 2013 and September 14 & 15, 2013.
Recordings:
The shows will be recorded in Fremont at Win With Words, 34141 Fremont Blvd, Fremont CA. The participants must be committed to the above tentative dates between 9am – 9pm (called in during different times) to film 4 episodes per weekend. There are no exceptions to this and parents should only consider auditioning if they have the time commitment to bring their child. No negotiation on special times will be entertained. We want serious committed families. Each show will take about 3-6 hours to prepare and record for.
Parent will be NOT be required to stay during the recordings and will be required to drop off and pick up their child when required. Child must be potty trained and able to stay without the parent. Parent must provide their snacks or meals during the time of the shoot. NO cameras, cell phones or recordings maybe taken in, during or from outside the recording venues. Children who are disruptive or unruly will not be allowed to continue in the recordings and asked to leave. Late arrivals will not be considered.
Scripts:
The scripts will be provided in advance and the child must be prepared to commit time to learn simple easy scripts that may be as long as 1 minute to 4 minutes per segment. The NDA is part of the talent release and our scripts may not be shared with other parties.

Dress Code:
Most of the dress codes will be kids friendly and where necessary we will provide anything unusual e.g. wigs, special outfits. However parent(s) just be cooperative on color codes and other simple attire.

Makeup
Provided by our team. Hair will be the simple natural styles unless they are mimicking an artist or character.

Segments we are auditioning for:
News Guru - will open the show , introduce the show, the topics and latest news.
Tech Guru – reporter will dress up as a nerd reporting on latest tech news and conducted interviews where necessary.
Science and Health Guru – report on healthy tips for kids.
Bolly Holly Guru – report on latest movies as well as conduct interviews with artists (dressed up fake celebrities)
Celebrities – fake celebrities mimicking real life celebrities
Tip of the week – Parenting tip by reporter
Talent Guru - featuring talent of the week
Other segments as we launch them.

No copies of the recordings are available since this is a copyrighted show however parent will be advised of air times, as well as tagged on social media networks, you tube and other media when necessary.
No compensation is offered to any parties, participants, parents or children. This is an opportunity to break into media and TV at a young age, develop communication, confidence and the child's portfolio.

Competition Promotion:
Win With Words TV Show will promote and publicize Win With Words Public Speaking Competition - now a national competition which will be featured in 5 cities across the country – San Francisco, Los Angeles, Atlanta, New York and New Jersey, in exclusive partnership with TV Asia USA. Winners from each city will compete at National Level Competitions in the East or West Coast.
Learn more about TV Asia at www.tvasiausa.com or www.winwithwords.info