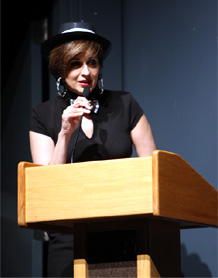 Yes – that's right we help kids, teens and adults! Many adults never received the opportunity to attend formal public speaking or communication classes or sometimes just need to brush up those skills or learn some new techniques. In today's competitive world it is impossible not to be exposed to social gatherings and parties, project presentations, meetings with the boss, interviews, etc. The list is endless. Even a parent conference with your child's teacher requires the ability to be able to present yourself and deal with challenges and obstacles. Many adults still find it hard to make conversations with new people and struggle with eye contact and speaking clearly in full sentences.
The goals of our adult's classes are to improve your communication skills, confidence and self-esteem, to learn important etiquettes and practices for your personal, professional and social life. Maybe you aspire to become a professional presenter, TV host or Radio Jockey… or simply want to make an impression wherever you go! Well you need our tools and techniques.
Level 1 Basic - Men & Women
Perfect for the shy homemakers or professional who wants to equip themselves to empower their communication and confidence at home, and/or workplace.
Goals & Benefit
Learn important

social etiquette

for your daily lives both at home and at work.
Develop

better fluency

when speaking, improving vocabulary and articulation.
See yourself as a more confident individual who can make intellectual conversations at home and in the work place.
Learn to make eye contact and become more

bold and active in society

.

Interviewing

skills and techniques.
Overall

self-grooming

and

personality development

.
Class Duration – this is structured as a club membership where the group will meet once a week.
Instructions are done interactively with regular speeches, videos and audio recordings, pow - wow sessions for constructive feedback from the instructor and members of the club. This class requires a commitment for at least 3-6 months to benefit from and appreciate the difference and results. Minimum of 3 enrollments to begin a session. Membersips begin at $35.00/class prepaid in advance.
Level 1: Business Corporate
Every year thousands of corporate executives, bankers, lawyers, entrepreneurs and sales executives reach out to business coaches, trainers and presenters to learn to develop skills to become superstars in their respective fields. Having gone through dramatic downsizing over the past few years, many companies are not looking to hire new employees – they are looking to energize and develop their workforce. Etiquette is not just limited to the fork and knife but involves respecting others around us and knowing what to say and when to say it.
Goals and Benefits
Increase your

vocabulary, grammar and conversation flow

.

Correct usage

of tenses in spoken English.

When and what to say

in different circumstances.

Negotiation

Skills.

Body Languag

e and Grooming Techniques.

Communication

with Global Work Environments.

Accent

reduction
Email

etiquette

& general etiquette.

Presentation

tools.
Different

styles of speech

- persuasive, information or simple presentations.
These classes are structured as 2 day workshops twice or thrice a year in collaboration with other speakers, professionals and conferences. Emal rennud@gmail.com for details.
A minimum of 10 enrollments required per class. These are generally company sponsored programs.